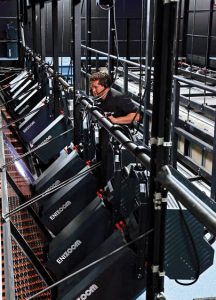 The Story of Niethammer

… began in 1900 when Emil Niethammer founded the company in Stuttgart, Germany. At that time Niethammer was dealing with switchgear and control gear, power distribution and electrical installations. In 1934 the first theatre spots were launched and these established the name Niethammer. By 1960 the product line encompassed primarily incandescent spots which the company was improving on a constant basis. After several steps, it was 1988 when Niethammer introduced its first HMI spot and in 1990 the ENIZOOM profile spot. These profile spots utilised a halogen bulb and established themselves quickly in multiple international theatres, musicals and TV installations.
In the year 2012 development and production of Niethammer luminaires
were taken over by NIETHAMMER LICHTTECHNIK GMBH. The factory near Stuttgart has many years' experience and is responsible for the production of all Niethammer products since 1989. The production is in a tradition that combines perfect craftsmanship with modern manufacturing methods.